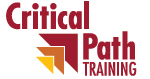 Today we ( Critical Path Training ) is announcing the release of three new classes designed for the end user, site collection administrator and power user:
WC-SEU2010 - SharePoint 2010 for End Users Webcast: This 2-day online class is ideal for those users who have been added to the Visitors or Members groups… basically those with read & contribute access.
WC-SCA2010 - SharePoint 2010 for Site Collection Administrators Webcast: This 2-day online class is for those users who will own and manage SharePoint sites, those in the Owners group or who have been flagged as the site collection administrator.
SPU2010 - SharePoint 2010 for Power Users: This 4-day hands-on class combines the two above classes. Students will go through two days of end user content and build off it with two more days for end users and site collection owners. This class is also available as a 4-day webcast WC-SPU2010.
One cool thing about these classes is that even if you are taking a webcast class, we can offer you a hosted SharePoint 2010 site collection for each student! So when can you sign up? Our first offering of all the above is scheduled for mid-December as a webcast.
All the courses listed above are also available to our courseware partners for licensing.