I really wanted to hold a press conference on primetime ESPN for this, but unfortunately the LeBronocalypse blew their budget so a blog post will have to suffice… :)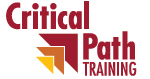 We at Critical Path Training are thrilled to announce the addition of two fantastic and well known SharePoint MVPs to our list of SharePoint instructors!
Matt McDermott is a SharePoint MVP who's presented at numerous major conferences such as SharePoint Connections, TechEd and the SharePoint Conference.
Maurice Prather is also a SharePoint MVP as well as one of the few certified & brilliant SharePoint Masters (MCM) in the world. Maurice's has presented at numerous conferences such as the SharePoint Best Practices Conference and SharePoint Connections among others. In his former life he worked on the SharePoint product team at Microsoft during the development of SharePoint 2007.
Both Matt and Maurice are independent consultants just like our other instructors so if you're looking for someone to assist you with a deployment or a custom SharePoint project, like the rest of our instructors, they are highly qualified candidates who we highly recommend. Matt and Maurice will be teaching our SharePoint 2007 and 2010 development and administrator courses.
On behalf of myself and my partner Ted Pattison, welcome Matt and Maurice! We're honored to have you join the CPT family!