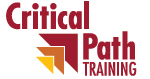 We at Critical Path Training are thrilled to announce the addition of a fantastic and well known SharePoint MVP to our list of highly qualified SharePoint instructors!
Dan Holme is a SharePoint MVP who's presented at numerous major conferences such as SharePoint Connections, TechEd and the SharePoint Conference.
Dan is an independent consultant just like all our other instructors so if you're looking for someone to assist you with a SharePoint project, like the rest of our instructors, he is a qualified candidate who we highly recommend. Dan will focus on teaching our SharePoint 2010 administrator course.
You can sign up for his first class as he'll be teaching our administrator webcast the week of April 11, 2011 (it will be on our schedule this week).
On behalf of myself and my partner Ted Pattison, welcome Dan! We're honored to have you join the CPT family!