I'm looking forward to the premiere Microsoft SharePoint Conference 2019 in Las Vegas, May 19-24, 2019, at the MGM Grand. Like the previous one in May 2018, I'm excited to head back and present a pair of sessions as well as bring my full day workshop for developers back!
With over 200 sessions covering all sorts of SharePoint topics giving you all things you need to adopt, build and manage SharePoint Online… what more could you want? You want more? If that is not enough there are even three days of workshops… over 20 of them… with even more deep dives into SharePoint, PowerBI, PowerApps, OneDrive and more.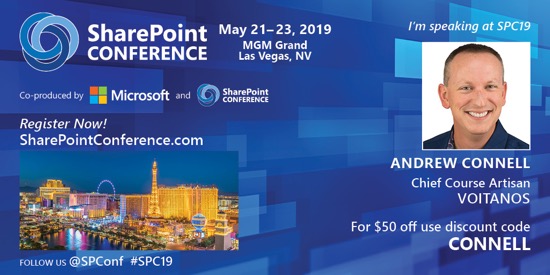 There is still a few more months to go until May. You can be sure I'll be updating the content of my topics as we see Microsoft update SPFx… it is an evergreen world these days, isn't it?
Let me share with you what I will be presenting:
Full-day workshop: Mastering the SharePoint Framework
The best way you can customize and extend your SharePoint site is using the SharePoint Framework (SPFx), the latest evolution of SharePoint development. This model is the way you customize and extend the SharePoint modern experience in both SharePoint Online and SharePoint Server 2016 & SharePoint Server 2019. Some SPFx components can also be used in classic sites as well! If you are an experienced solution-based SharePoint developer or new to the SharePoint platform, this workshop is for you. You will learn how to get started installing everything you need on your workstation for developing with the SharePoint Framework before we dive in. By the end of the day, you will know how to build web parts, application customizers, field customizers, command sets, how to deploy your components in a performant way, integrate data from SharePoint and third-party sources, style your components and more!
This workshop is based off my popular on-demand video course I sell through my business, Voitanos. That course contains over 30hrs of content. As a bonus to those who register for the workshop, I'll extend a special deep discount to the on-demand class if you wish to go further in your SPFx learning!
This is a pre-conference session so be sure to consider it when registering. Last year we sold out and had to turn people away so don't wait until the last minute.
Breakout session: Introducing the SharePoint Framework
The SharePoint Framework, Microsoft's recommended approach to customizing and extending SharePoint has taken off like a rocket! Now it's time for you to jump on the bandwagon and see how you can use it to enhance your SharePoint Online and on-premises environments. In this demo-heavy session, after explaining what the SharePoint Framework (SPFx) is and what you can do with it, you will see how quickly you can get your development environment setup, building and deploying your first customizations!
Breakout Session: Creating & consuming 3rd party services with the SharePoint Framework
The SharePoint Framework enables developers to build client-side customizations for SharePoint Online. While you can do a lot client-side, the need for server-side code still exists in many scenarios, such as protecting IP and data, as well as performing complex processes. In this demo-first session, you will learn how to call 3rd party services from SharePoint Framework (SPFx) solutions, as well as how to create Azure AD secured REST APIs that you can call from the SPFx as well!
Register and save $50
Talking of being there, if you have yet not signed up for the conference, you should do it right now. And I can save you $50, that you can spend on gifts to your family for the holidays seasons coming up. Register with my discount code CONNELL and you will get a $50 discount. And even better, if you do it before the 15th of January you will get an XBox, a Surface Go or other cool stuff depending on your selected package.