I've got some exciting things to share as February comes to a close, including:
Mastering the SharePoint Framework updates including a new chapter
New Course on SPFx Adaptive Card Extensions
But, before we get started with the updates, even though it's my birthday tomorrow, I'm flipping the table & giving YOU the present today!
20% off all SPFx courses through March 3, 2023
To celebrate this update and my new course, I'm offering 20% off all my SharePoint Framework (SPFx) bundles and courses this week only. That means if you enter the discount code SPFXSPRINT29 before Saturday, March 4, 2023 @12AM, you can:
Now, let's get to the updates!
Mastering SPFx: Sprint-29 is Live
I've completed & deployed sprint-29 for my flagship course, Mastering the SharePoint Framework . This update includes three things:
Minor typo fixes to 3 lessons in the chapters Introducing the SharePoint Framework (Starter bundle) & Dig into the SharePoint Framework (Fundamentals bundle).
Refreshed & simplified the chapter Logging & Debugging (Fundamentals bundle). In addition to the refresh, I consolidated this chapter's seven (7) lessons down to just three (3). Previously the two topics of logging & debugging were split across 2-3 very short lessons.
A brand new chapter on creating Adaptive Card Extensions for Viva Connections (Ultimate bundle).
You can learn more about this update, as well as all previous updates, on the course changelog page .
Mastering SPFx Ultimate - New Chapter on Adaptive Card Extensions
I did something I haven't done in years: I added a new chapter to my Mastering the SPFx course!
In this new chapter, available in the Ultimate bundle, you'll how to extend the Viva Connections desktop & mobile apps by creating custom SFPx Adaptive Card Extensions (ACEs).
And it's not a short one either! This chapter is over 2.5 hours long across seven (7) lessons!
Not only do I explain the basics of ACEs, but I give you an in-depth look at each of the components of an ACE including the core ACE class, the CardView, & the QuickView. You'll learn how to work with view navigators, Viva-specific actions to upload media files and integrate location capabilities in your cards.
Throughout the chapter, we build a comprehensive example that demonstrates what's possible with ACEs!
Learn more about this chapter and what's covered from the overview lesson that I've published to my YouTube channel!
New Course on SPFx Adaptive Card Extensions
This new chapter on SPFx ACEs for Viva Connections is so big & so many developers have asked for it, I thought I'd try something new.
If you aren't currently a student of the Mastering SPFx Ultimate bundle you can get this chapter as part of my brand new course - Extend Viva Connections with SPFx ACEs !
This course, available for just $95 (just $76 this week only when you use the discount code mentioned above), contains the exact same lessons & code found in the chapter on Adaptive Card Extensions in the Ultimate bundle of my Mastering SPFx course.
This makes for a great add-on to my existing Mastering the SPFx Starter & Fundamentals bundles, or to just get started with SPFx as a stand-alone option!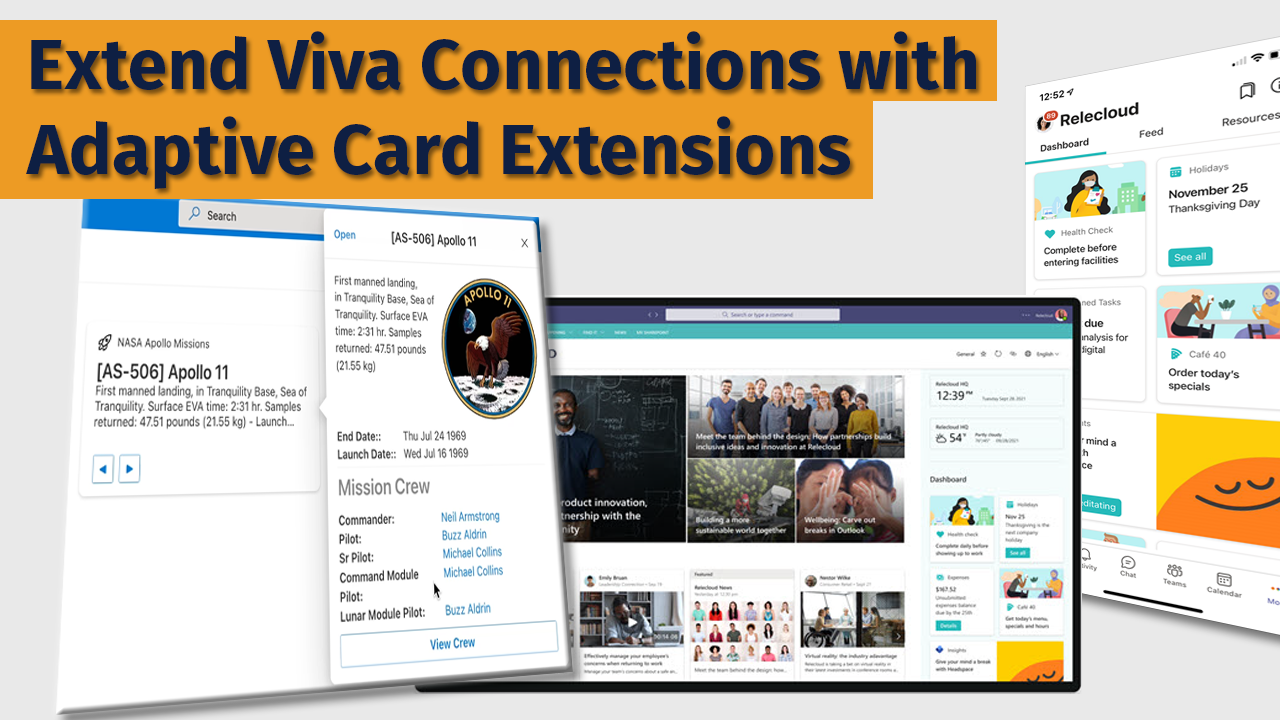 Got questions? Check the FAQ on the course page but if something isn't covered, hit reply and ask away!